There are about a dozen characteristics available to help identify trees. Learning which subset of characteristics to use for a particular tree is where practice and skill are needed. Some characteristics are seasonal, such as leaves, fruits, and flowers. Most others are more year-round, such as twig and branching patterns, buds, bud scars, bark, tree form, site, and tree associates.
When all the leaves have all fallen off deciduous trees, you can identify them by examining the bud! You could look at the bark, but it can vary greatly among-st individual trees.
Sometimes, if a tree is too tall, accessing the buds is nearly impossible, so other identifying characteristics may be necessary to ID the tree.
A good tactic for beginners is learning the ten most common tree species first; sugar maple, red maple, white cedar, red pine, white pine, northern red oak, quaking aspen, bigtooth aspen, black cherry and hemlock. Once these trees are known, comparing them to unknown species will often make the identification process move quicker.
In the chart below, there are some common Michigan tree species with pictures of their buds.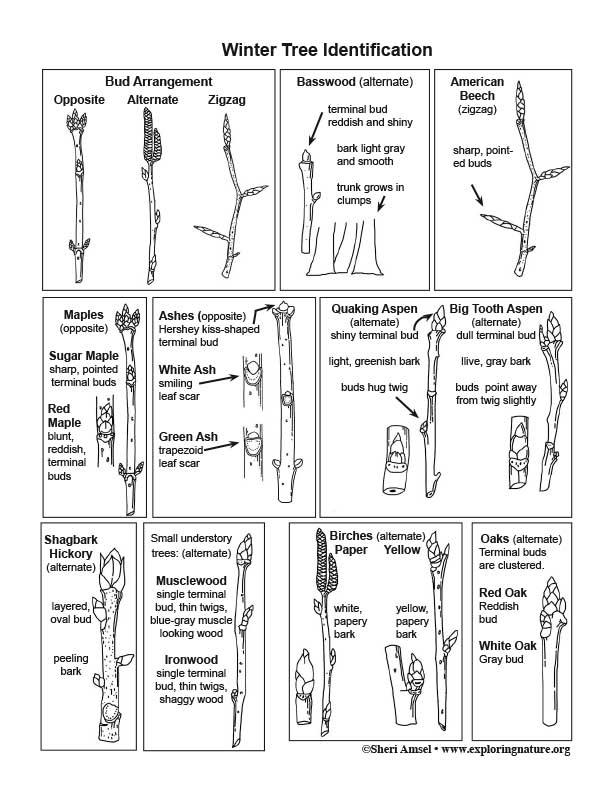 To learn more about some of the identifying bud characteristics of some common Michigan tree species, click here. 
Now that you are familiar with what the buds of some of Michigan's common tree species look like, test your knowledge and go for a hike in the woods!
Remember to consider "where" the tree grows as that can be quite helpful, especially for sites that are particularly dry or wet. Some species are intolerant of shade, saturation in the soil, etc. The more trees you know, the easier it is to learn more. One of the best field guides is "Trees of Michigan" by Linda Kershaw. Norman Smith's "The Trees of Michigan and the Upper Great Lakes" is also a good field guide.